Franchise Opportunities
What is the Crepe Affair Franchise System?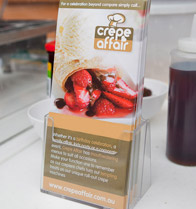 Crepe Affair is an all Australian mobile catering franchise. We specialise in home and function catering of sweet crepes, pancakes and espresso coffee. The business format has been developed over a number of years and taps into two critical factors – firstly the desire by many people to operate their own part time business, using their own special talents to maximize the opportunity and secondly the growing demand in Australia and elsewhere for home and business  based hospitality services.
At the heart of the system is our unique Roll Out Crepe Machine which consistently and continuously produces perfect, golden brown crepes ready to be filled with all of life's goodies.
A Crepe Affair franchise offers home , office and function catering for birthday parties, family and corporate events as well as children's parties. Our menu modules include sweet crepes, pancakes and espresso coffee. The system is not a retail based business – so there's no rent to worry about – it can be operated from home and in most cases transport to parties can be undertaken with a sedan motor vehicle, although a Crepe Affair van is a real bonus, both for easy transport and great marketing.
Who makes a terrific Crepe Affair franchisee ?
YOU !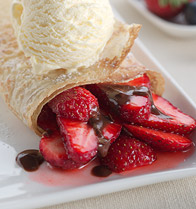 Well maybe, we would love everyone to be a candidate for our business but in reality you need some special skills – primarily PEOPLE skills. Principal Richard Lewis notes that there is no point being a part of the hospitality industry if you're not the hospitable type. You already know that of course, but we really want franchisees who love operating in a positive, happy environment. Every time we go to work we're talking about parties or working in one – and whilst it can be hard work , we know that our enthusiasm can help make for a great party experience for our clients and their guests.
Franchisee's will need to be comfortable around food – you won't need to be a professional foodie but you will need to appreciate how important food is and how it must be treated.
Your personal presentation is going to be important to our clients and therefore to us. You will need to spend some time promoting your business and whilst we will show you how, it's best if you feel comfortable communicating with new contacts. As an ambassador of our business you will appreciate the significance of providing a service to clients in their homes and work places, surrounder by their special guests.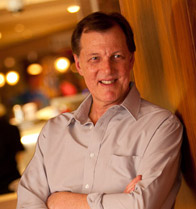 The system is the system – so we want people who are prepared to work with us rather than simply doing their own thing. Our strength comes from the group and the more success the group enjoys the more success each franchisee will enjoy. Having said that, we recognise that each franchisee will spend most of their time in their own community and must be independently minded and self motivated.
Is it a part time business ?
The simple answer is yes – but like all things, that can change. The business model is based around the franchisee running a number of Crepe Affair functions each month, but opportunities exist in many communities to transform the business into a more full time operation and this will be discussed if you take up the opportunity.
What makes the business different ?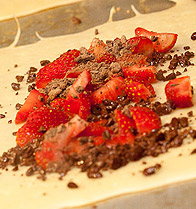 At the heart of the process is our unique Roll Out Crepe Machine which has been specifically engineered to work in the home, office or function environment.  Simply put, we have the world's most efficient , operator based crepe making system . That means we can provide a fast and efficient service – allowing plenty of time for the guests to come back for seconds.
Everyone loves crepes – and with our specially formulated crepe mix, ours are simply delicious. Our franchise opportunities are also delicious as they fill that very special space for people looking for an additional or part time income.
How much will it cost ?
This is where most franchise models will avoid a straight answer – not us.
We will provide you with a comprehensive  equipment kit including our crepe machine, support equipment, Nespresso dual head commercial coffee system, start up consumables pack, training in our Sydney head office, a kick start advertising and marketing program plus high level mentor access during the first thirty days of your operation. In addition you will have access to our Central Web and 1300 Booking System and guaranteed priority for all bookings and enquiries in closest proximity to your primary residential address.
Systems from $29,500.00*

Franchise opportunities exist right across Australia, New Zealand and elsewhere – so don't delay, Contact us now.
*Price excludes GST, applicants own legal and professional advice , travel to and accommodation in Sydney during training as well as freight costs to non metro Sydney locations
What Now ?
If you think you have what it takes to get into business – enjoy being part of a new concept with lots of upside and very little down side – are turned on by happy people enjoying special treats and can see yourself becoming successful – then get in touch and we can start the discussion – its time !
Contact us now for more detailed information or simply call  1300 Crepes (1300 273737)